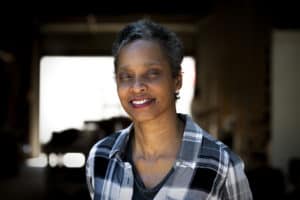 The Vault at 1930 welcomes locally and nationally recognized artist and Jacksonville resident Princess Simpson Rashid!
"Odyssey of Abstraction: Princess Simpson Rashid"
Exhibition Dates: October 19-31, 2018
Show Opening Cocktail Reception: Friday October 19th 5:30pm – 7:30pm Public Invited – Request RSVP to [email protected] or by calling The Vault at 904-398-2890
About Princess Simpson Rashid
Princess Simpson Rashid was born in Atlanta, GA in 1972. She studied printmaking and painting at Escuela de Artes Plastica (EAP) in San Juan, Puerto Rico. Rashid earned her B.S in Physics from Georgia State University in Atlanta, GA and worked as a researcher in Nano science at Georgia Tech Research Institute (GTRI).
Rashid has exhibited in solo and group exhibitions in museums, art centers, galleries and alternative art spaces across the United States including the Pacific Grove Art Center in Pacific Grove, CA, Felix Kulpa Gallery in Santa Cruz, CA, Tempus Projects in Tampa, FL, Cummer Museum and Gardens in Jacksonville, FL and Escuela Superior de Bellas Artes in Cusco, Peru. Recent juried group shows include "Hard Edge Paintings" at the Harris House/Atlantic Center for the Arts in New Smyrna Beach, FL curated by Bethany Bennett Behr,"Pressing Matters- APS" at the Abernathy Arts Center in Sandy Springs, GA and "Suprematism, Constructivism, Futurism" at Phylogeny Contemporary in Seattle, WA curated by Lori Johns.
In addition, Rashid's paintings and prints can be found in museum and private collections throughout the United States, the United Kingdom, and Portugal. Her museum and public collections include, The Museum of Science and History (MOSH) in Jacksonville, FL; The Spencer Museum of Art in Lawrence, KS; the Lake Eustis Museum of Art in Eustis, FL; Baptist Hospital-North and Baptist/MD Anderson Cancer Center in Jacksonville, FL.
Rashid started her science career while in high school working as an intern at Bell Labs (now Nokia Bell Labs) in Murray Hill, NJ. Her maiden name (Simpson) is included on several US patents. She is a former Ronald E. McNair Scholar and Washington Center Fellow/NOAA.
Sports have also had a profound effect on Rashid's life. She is a former US National Fencing Champion in all three fencing weapons; foil, epee, and saber. She is currently a fencing coach and competitively training on the Veterans40 national circuit.
Rashid has previously served as Studio Director and President of the Art Center Cooperative (TAC) in Jacksonville, FL; Studio Director of the Ybor Art Colony (YAC), Curator of the Ybor Artists Association (YAA), and Co-Gallery Director of the Wandering Eye Gallery (WEG) in Ybor City-Tampa, FL.
Rashid's diverse experiences have contributed to the complexity and thoughtfulness of her work and work ethic. She is married to a wonderful husband (retired US Naval Aviator) who wants to "fill the sky with robots". They have two beautiful and creative daughters.
Rashid is currently a resident artist of CoRK Arts District (CoRK) in Jacksonville, FL.
SOLO EXHIBITIONS (select)
2018 "Odyssey of Abstraction: Princess Simpson Rashid", The Vault 1930, Jacksonville, FL
2017 *Constructed Narratives in Red, Black & White"- FSCJ Kent Gallery, Jacksonville, FL
2016 "Princess Simpson Rashid", The Art Center Cooperative,Jacksonville, FL
2015 "Abstracts", The Grune Family Gallery/Players By Sea, Jacksonville Beach, FL
2013 "Controlled Spontaneity", Tay-cho Gallery, Bartow, FL
2011 "The Art of Science-Princess Rashid", Museum of Science & History, Jacksonville, FL
2011 "Passion, Perception & Symbolism", Lake Eustis Museum of Art, Eustis, FL
2009 "The White Space: New Works by Princess Rashid", PG Art Center, Pacific Grove, CA
2007 "Strive: New Works", Karpeles Manuscript Library Museum, Jacksonville, FL
2007 "Elemental Atmospheres", Museum of Science & History (MOSH), Jacksonville, FL
2006 "The Sum of All Things", FSCJ Downtown Gallery, Jacksonville, FL
2006 "Eyes Turned Skyward", FSCJ Kent Gallery, Jacksonville, FL
2018 "Hard Edge Paintings", Harris House/Atlantic Center (ACA), New Symrna Bch, FL
2017 "Suprematism, Constructivism, Futurism", Phylogeny Contemporary, Seattle, WA
2017 "Pressing Matters- APS", Abernathy Arts Center, Sandy Springs, GA
2017 "Life Under Construction:Princess Rashid/Keith Doles", The Yellow House, Jville, FL
2017 "Small Works", The Yellow House, Jacksonville, FL
2017 "Grayscale: Black, White, Gray Artwork", Illsol Gallery, Tampa, FL
2017 "Solar Connections", MPC Annex Gallery, Monterey, CA
2017 "A More Perfect Union", The Space Gallery, Jacksonville, FL
2017 "Human Trafificking", Jax Maker Space/Jacksonville Public Library, Jacksonville, FL
2017 "Kesha", Jax Maker Space/Jacksonville Public Library, Jacksonville, FL
2017 Solarplate Residency- Escuela de Bellas Artes Gallery, Cusco, Peru
2017-2014 "CoRK Open Studios", CoRK Art District, Jacksonville, FL
2016 Grand Opening, The Vault Gallery 1930, Jacksonville, FL
2016 "Linked Through Art/Les Quatre Amis", Gallery 1037/Reddi Arts, Jacksonville, FL
2016 "MOCA at CoRK", CoRk Art District, Jacksonville, FL (curated by Ben Thompson, Museum of Contemporary Art-Jacksonville)
2016 "LIFT: Contemporary Expressions of African American Heritage", Cummer Museum and Gardens, Jacksonville, FL*
2016 "TOE2016: Sensory Perception", Ritz Theater & Museum, Jacksonville, FL*
2015 "Small Things Considered", Atlantic Center for the Arts (ACA), New Symrna Bch, FL*
2015 "Princess Rashid & Overstreet Ducasse", Southlight Gallery, Jacksonville, FL
2015 "Abstract X", Southlight Gallery, Jacksonville, FL*
2015 "The Sketchook Project 2015", Brooklyn Art Library, (Williamsburg) Brooklyn, NY
2015 "Through Our Eyes 2015", Ritz Theater & Museum, Jacksonville, FL*
2013 "the All Americans: Ducasse, Harwood & Rashid", CoRK Art District, Jacksonville, FL **
2012 "Florida Watercolor Society Online Show", www.floridawatercolorsociety.com*
2010 "Imagination Squared", Museum of Contemporary Art (MOCA)-Jacksonville, FL
GROUP EXHIBITIONS ( *-juried, **- 3 man show)
2010 "unseen", Museum of Science & Industry (MOSI) , Tampa, FL*
2010 "Earth Visions", Museum of Science & Industry (MOSI) , Tampa, FL*
2010 "Grey Matter", Tempus-Projects, Tampa, FL*
2009 "Our Home Town-MBPAPA Plein Air Exhibition", PG Art Center, Pacific Grove, CA*
2009 "KulpAbility: Experiments in Printmaking", Felix Kulpa Gallery, Santa Cruz, CA
2007 "Fall Show & Auction", San Jose Institute of Contemporary Art, San Jose, CA
2001 "Florida Printmakers Annual Show", Allied Artists Unlimited Gallery, Tampa, FL
RESIDENCIES
2017 Cusco School of Fine Art Residency (with Dan Welden/Master Printmaker), Cusco,Peru
BIBLIOGRAPHY
Online
Folio Weekly, "The Abstract Truth: Princess Simpson Rashid continues to create captivating works that fuse her inner and outer worlds", by Madeleine Peck Wagner, Feb. 16, 2017, http://folioweekly.com/The-Abstract-TRUTH,17012
BurnAway, "The State of Black Art/What is Black Art in Jacksonville" by Daniel Brown, June 29, 2015
The State of Black Art / What is Black Art?, in Jacksonville
Art Taco, "Seen: The Wandering Eye Gallery Opening" by Luis Gottardi, June 26, 2013,
http://art-taco.blogspot.com/2013/06/seen-wandering-eye-gallery-opening.html
Restless Minds, "Princess Rashid-Art With Science", April 6, 2013,
http://restlessmindboosters.blogspot.com/2013/04/princess-rashid-art-with-science.html
Folio Weekly, "Visual Visionaries: A dozen creative denizens who defy boundaries" by Dan Brown, January 16, 2013, http://folioweekly.com/Visual-Visionaries,85
The Examiner, "Rashid: Painting Meets Science" by Samantha Churchill, December 12, 2011, http://www.examiner.com/article/princess-simpson-rashid-painting-meets-science
Have Brush, Will Travel: The Art Blog Of Jaime Howard, "Princess Simpson Rashid-The Art of Science", November 18, 2011,
http://jaimehowardart.blogspot.com/2011/11/princess-simpson-rashid-art-of-science.html
Monterey County Weekly, "Grooving In Pacific Grove," by Walter Ryce, May 28, 2009, http://www.montereycountyweekly.com/news/831_tales/article_5e73da43-1036-509b-b6d2-e8a8265d07d7.html
EU Jacskonville, "Elemental Atmospheres: Contemproary Paintings by Princess Simpson Rashid inspired by science, math and perception" by Donald Dusinberre, April 5, 2007, http://www.eujacksonville.com/pages/04-05-07/princesssimpsonrashid.htm
ARTIST TALKS (select)
2017 *Constructed Narratives in Red, Black & White"- FSCJ Kent Gallery, Feb 21, 2017
2016 "Controlled Spontaneity", Jacksonville Artist Guild, Nov 14
2016 "Lift and Tea", Cummer Museum of Art & Gardens, Jacksonvllle, FL
2016 "Inside Out", Cummer Museum of Art & Gardens, Jacksonville, FL
2016 "Dinner with an Artis-Princess Rashid", The Art Center
2016 "Pecha Kucha", J Johnson Gallery, Jackonville Beach, FL
2015 "Controlled Spontaneity", Ritz Theatre
2015 "What is Black Art?" Panel Discussion with Rashid and Ducasse. Moderated by Prof. Dustin Harewood, Ritz Theatre/Lavilla Museum
HONORS/AWARDS (select)
2006 Grant Recipient, Art Ventures Award , Community Foundation in Jacksonville, FL
2006 Grant Recipient,Independent Life Minority Award, Community Foundation in Jacksonville
1992 Fellow, Washington Center Fellow/NOAA
1994 Fellow, Ronald E. McNair Fellowship- Ga Tech Research Institute/Georgia State University, Atlanta, GA
1986 Intern, High Step Program, Bell Laboratories, Summit, New Jersey
PROFESSIONAL EXPERIENCE
2018 Advisory Committee Member- Augusta Savage exhibition- Cummer Museum
2017 Awards Committee Member- Cultural Council of Greater Jacksonville Art Awards
2016 Juror- Printmaking Exhibit- The Art Center-Jacksonville, FL
2013 Studio Director, Ybor Art Colony, Tampa, FL
2013 Co- Gallery Manager, Wandering Eye Gallery, An Artist Cooperative, Tampa, FL
2012 Curator, Ybor Art Association, Tampa, FL
2007/06 Studio Director/Past President, The Art Center Cooperative Inc., Jacksonville, FL
2007 Education Outreach Coordinator, Jacksonville Watercolor Society's (2005-2007),
2007 Website/Blog Administrator (Art Center, JCAAA, JWS Team Outreach) (2005-2007)
2007 Juror, Beaches Fine Art Series , Jacksonville, FL
PUBLIC COLLECTIONS
Baptist/MD Anderson Cancer Center, Jacksonville, FL
Baptist Hospital North, Jacksonville, FL
Brookyln Art Library, Brooklyn- New Yorl
Teeling & Company, CPAs, Tampa, FL
Leich & Associates, CPA/PA, Tampa, FL
Museum of Science & History (MOSH), Jacksonville, FL
Lake Eustis Museum of Art, Eustis, FL
Spencer Museum of Art, Lawrence, KS
Jacksonville Public Library, Jacksonville, FL
Terry A. Wright, PMP
GALLERY REPRESENTATION
The Vault at 1930, Jacksonville, FL, https://thevaultat1930.com/
EDUCATION (select)
1998-2000 School of Plastic Arts (EAP), Painting/Printmaking, San Juan, PR
1995 Bachelor of Science. Physics, Georgia State University, Atlanta, GA