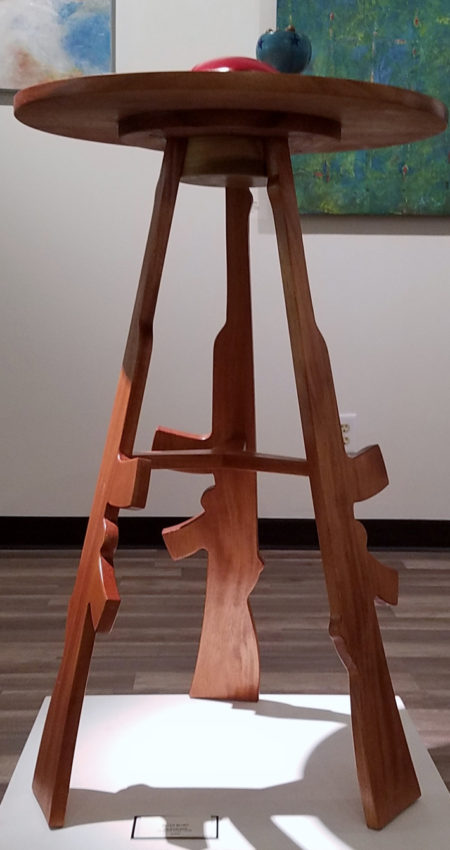 ABOUT PETER BLUNT
I am an accomplished artist in wood who trained at Berea College in Kentucky, and I have made furniture for over thirty years. My new sculptural work is the most fun I've had in ages! These pieces draw on my admiration of Art Deco architecture, of the compelling power of light, and on my predilection for whimsy.
My passion has been for the historied craft of woodworking and the fabulous but fickle natural material woodworkers never actually master. The college I attended has a national reputation as a center for traditional craft, and I was steeped in respect for the tried and true old manner of work. But I have also been an irrepressible gadgeteer, a science fiction fan, an avid adopter of new tools and materials. I want my work to be forward looking and relevant.
In my youth, I witnessed an extraordinary art event which was accidental and played out for me alone. On a misty early morning, a raggedy and drab dump truck toiled up a hill, and I saw it silhouetted against the morning sky as it climbed. Its trash load was entirely of broken glass, and as it crested the hill and passed in front of the rising sun the glass burst into shining light, bejeweled for that moment and shimmering.  The morning was too early for anyone else to about, so I accepted the event as my special treat and valued it highly.
During a trip to Miami's South Beach area I was impressed by the lively neon splendor highlighting classic Art Deco buildings. The style resonated with me. The curves and spires of nautical themes or characteristic streamlined styling suggest modernity and progressiveness – the stirring "onward and upward" effect.
In the years I spent designing and building theater rooms in upscale homes, I used lighting to enhance the "movie going" feeling. These rooms are elaborate, with a stage construction surrounding a ten-foot-wide movie screen, columns ranked on the walls, and tiered seating. I relished the opportunity to try out innovative design and experiment with lighting effects.
My sculptural work reflects these experiences. My sculpture literally glows with festive energy, expressing liveliness and eagerness for progress and a bright future.