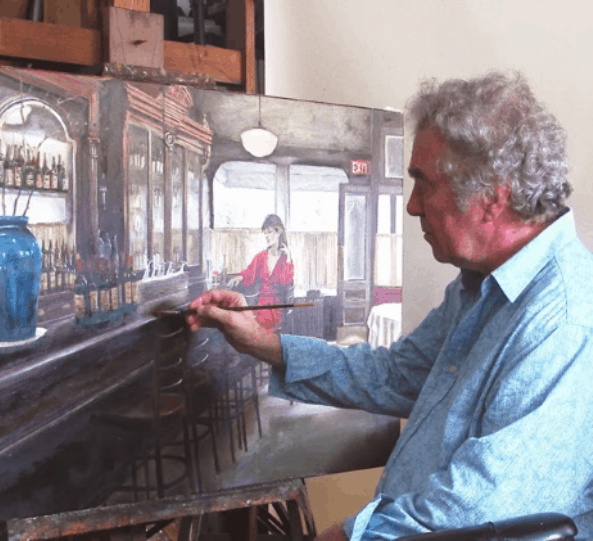 Join us at The Vault at 1930 Art Gallery through August 31st as we celebrate the life and work of renowned artist Harry McCormick. Gallery Hours – Tuesdays through Friday 10am to 5pm and Saturdays 10am to 3pm. Call 904-398-2890 or email us at [email protected] for appointments outside of normal business hours.
This Vault at 1930 exhibition is being held in support of the "In the Mood – The Art of Harry McCormick" exhibition from July 3rd to September 20, 2018 in the rotunda of the St Johns County Administration Building. This is an "Art in Public Spaces" exhibition by partnership between the St Johns County Cultural Council and the St Johns County Board of County Commissioners. Supporting sponsors include the St Johns County Tourist Development Council, The Community Foundation of Northeast Florida, the St Augustine Art Association, Clear Channel Outdoor, the Corazon Cinema and Cafe and The Vault at 1930 Art Gallery.
About Harry McCormick
Basically I have been a painter of ' interiors ' although not exclusively as there have been other venues as well. You could call me a painter of ' genre ' as well, meaning ordinary people doing ordinary things such as recently painting a series of painting of people looking at paintings in museums and galleries. It gave me an excuse to do copies of other great paintings done be such painters as Picasso, Monet, Cezanne, Sargent, and the like. Painting bars has been an ongoing theme of mine for many years. I have traveled the world looking for interesting bars and the people in them. I did a show in Chicago of the Victorian Pubs of London, in New York from the Plaza Hotel Oak Bar to McSorley's Old Ale House, which is one of my favorites and one that I have been painting on and off since 1983. I like very elegant interiors as well as funky places. I've painted the mansions of Newport, Rhode Island to the Breakers and the Flagler Mansion in Palm Beach. I've painted the bars of South Beach, Miami. I done bars in San Francisco, Chicago, Paris, London.
Having practiced Aikido and Zen meditation for 45 years I have painted some pictures related to these things. But recently I had been asked by the Owl 57 Gallery to try my hand at painting Jewish subjects. It was difficult for me at first, having been raised in an Irish Catholic background. But my mother had a Jewish heritage and Rabbi New from the Boca Raton Chabad assures me that I am Jewish. He took me under his wing and somehow thru him I got a handle on painting Judaica. This art is shown at the Chassidic Art Institute in Brooklyn, NY.
Past Shows and Past/Present Collections and Galleries
Martin Gallery, New York, NY 1964
Martin Gallery, New York, NY 1965
C.A. Galleries, New York, NY 1968
C.A. Galleries, New York, NY 1970
C.A. Galleries, New York, NY 1971
C.A. Galleries, New York, NY 1972
C.A. Galleries, New York, NY 1973
Garelick's Gallery, Birmingham, Michigan 1974
C.A. Galleries, New York, NY 1976
Brewster Gallery, New York, NY 1979
Merrill Chase Gallery, Northbrook, Illinois 1981
Walton Street Gallery, Chicago, Illinois 1981
Jack Gallery, New York, NY 1985
Merrill Chase Galleries, Chicago 1990
Merrill Chase Galleries, Georgetown 1991
Loring Gallery, Sheffield, Massachusetts 1994
Loring Gallery, Sheffield, Massachusetts 1995
Loring Gallery, Sheffield, Massachusetts 1997
Museum Masters Gallery, New York, NY 1997
Fingerhut Gallery, Minneapolis, Minnesota 1998
White Oak Gallery, Minneapolis, Minnesota 1999
Loring Gallery, Two-Man Show, Sheffield, Massachusetts 1999
Art Atelier, Englishtown, New Jersey 2000
One Gallery, Gallery of Modern Art 1965
Mark of the Phoenix Gallery, New York NY 1966
Newark Museum, New Jersey 1965, 1966
Heckscher Museum, Huntington, NY 1966, 1967
University of Maryland 1966, 1967
Mary's College of Maryland 1972
De Cordova Museum, Lincoln, Massachusetts 1975
Sutton Galleries, New Orleans, Louisiana 1982
Brewster Gallery, New York, NY 1980, 1981, 1982
Circle Gallery, San Francisco, California 1987
Circle Gallery, New Orleans, Louisiana 1987
Galerie du Centre, Paris 1987
Galerie Arts-Objets, Angouleme, France 1987
Musee des Beaux-Arts de Carcassonne, France 1987
Meridth Long Galleries, Housten, Texas 1990
Dietrich Contemporary Arts, New York, NY 1995
Loring Gallery, Sheffield, Massachusetts 1996
Fingerhut Gallery, Minneapolis, Minnesota 1998
Wit Gallery, Lenox, Massachusetts 1999, 2000, 2001, 2002
Karen Lynn Gallery, Boca Raton, FL 2004, 2005
Gallerie Brion, Del Ray Beach, FL 2005
Entertainment Gallery, Venetian Hotel, Las Vegas, NV 2006
Jack Gallery, Mandalay Bay Resort, Las Vegas, NV 2006
Gallery Four Fourty Four, San Francisco, CA 2000, 2001, 2002, 2004
Weatherburn Gallery, Naples, FL 2002
Genesis Gallery, Fort Lauderdale, FL 2002, 2003
Brooklyn Museum, New York
Newark Museum, New Jersey
The University of Southern Illinois
Jessie Besser Museum, Michigan
Charles B. Goddard Arts Center, Ardmore, Oklahoma
Griffith Art Center, St. Lawrence University, Canton, NY
Canton Art Institute, Canton, Ohio
Charles Rand Penny Foundation, New York, NY
Smithsonian Institution, Washington, D.C.
Farleigh Dickinson University, Rutherford, New Jersey
Syracuse University Collection, Syracuse, New York
Vatican Collection, Rome, Italy
Mary's College of Maryland
University of Wyoming, Laramie
Birmingham Museum of Art, Alabama
Wichita State University Collection, Kansas
American Thermoplastic Company, Pittsburgh, PA
Senator Ted Kennedy
Collection of Mel Brooks and Ann Bancroft
Guggenheim Museum, New York, NY
Boca Raton Museum of Art, Boca Raton, FL
Delaware Museum of Art, Wilming
The Vault at 1930, Jacksonville, FL