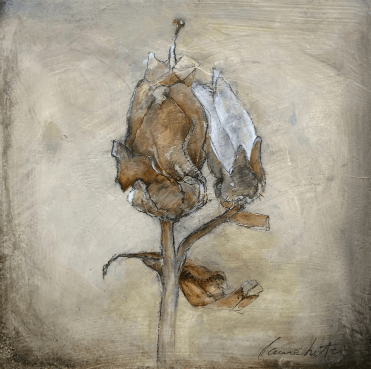 ABOUT LAURIE HITZIG
Jacksonville based artist Laurie Hitzig, a graduate of the University of Florida, also studied at, the Kansas City Art Institute, the Florida State University Overseas Study Program in Florence, Italy and the University of Missouri.
Hitzig, a native New Yorker, has been exhibiting her powerful and mystical paintings since 1985. Laurie's work has been shown nationally and regionally and has won top awards in Juried and Group exhibitions. Her work has been exhibited extensively throughout the Southeast including The Cummer Museum of Art and Gardens, Jacksonville, the Museum of Contemporary Art Jacksonville (MOCA), the University of North Florida, the south gallery at the Nathan H. Wilson Center for the Arts at FSCJ, Jacksonville, The Alexander Brest Museum at Jacksonville University, The Boca Art Museum, The Norton Art Museum in Palm Beach, The All Florida Juried Exhibitions in Boca, The Suwannee Valley Regional Exhibitions, The University of Mobile, Florida A&M University and The Fine Arts Council of Montgomery, Alabama. Laurie was invited to participate in The Florida-Wyoming Tarot Project Artists' Collaboration with the Wyoming Arts Council in Cheyenne which was exhibited in galleries throughout the country.
Artist's Statement
Creating is a process of constant discovery.
Sometimes the image is right there, other times it is a struggle.
When the images begin to reveal themselves, it becomes a collaboration between me and the work.
It is always different from my initial intent.
The most successful and exciting pieces are the ones that just happen on their own. All I must do is brush away the dirt and uncover what is hidden.